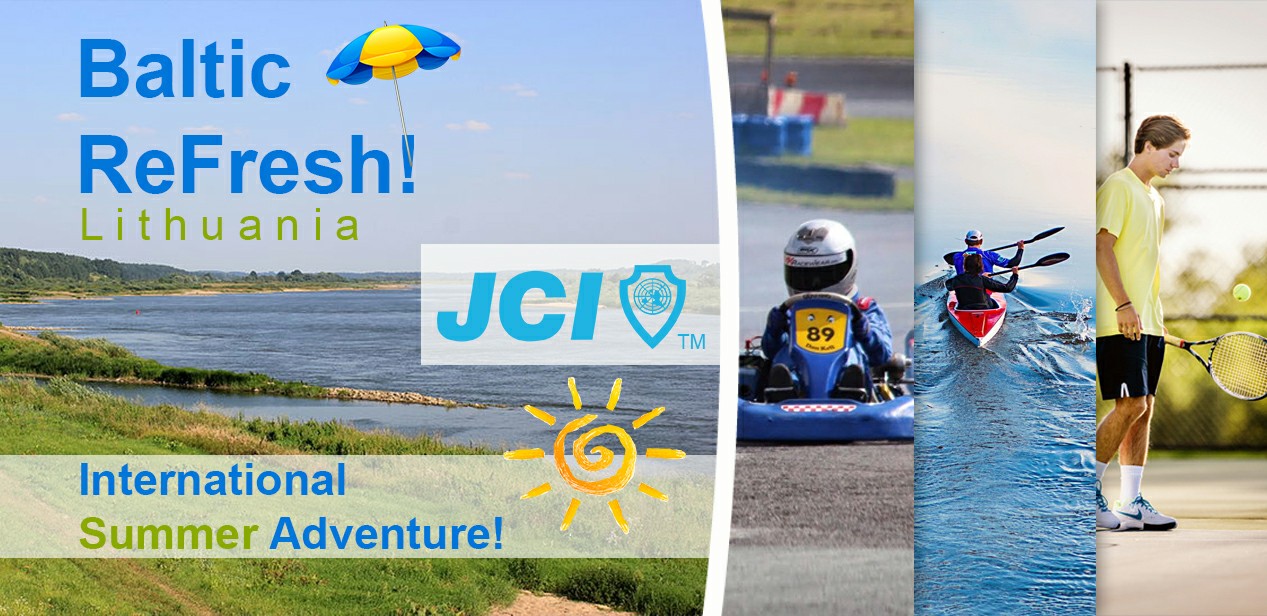 A chance to get away from the buzz of your city life. A wonderful little town and its people. Inspiring people. EVERYONE will be here!
JCI Summer Summit 'Baltic ReFresh' invites YOU to spend a weekend out and about in Smalininkai, relax and meet awesome people from all around the Baltic!
THURSDAY:
20:00 Dinner for the earliest and the most eager!
FRIDAY:
14:00 Early arrival and drop-off of things in the places of accommodation.
15:00-17:30 JCI European Conference 2018 to JCI World Congress 2019 organizers COC experience transfer (closed group working session)
17:30-18:00 Registration of participants and program annotations (dinning place)
18:00-19:00 Dinner (At the dormitory house)
19:00-21:00 mini Forum "JCI EC Riga - challenges and achievements. What valuable lessons would fit any team organizing any bigger event." followed by all together ideas generation for 2019 JCI World Congress in Talsinki!
21:00-23.00 Sauna in the guest house (free for staying at the guest house, others extra 5 eur fee) OR Smalininkai city small tour
23:00... Bonfire and songs under the stars
...and all night disco dance flour
SATURDAY:
6:00-9:00 Local fishing competition at the river Nemunas OR Yoga
8:30-10:00 Breakfast
10:00-13:00 Kids Zone / Go-karts / Sports / Touristic route on your own
----------
10:00-17:00 Canoes trip
----------
13:00-14:00 Lunch
14:30-18:00 Smalininkai city fest: local trade and food area, children fun zone, short boat trip, sporting competitions
OR 16:00-18:00 Activation session (be ready to MOVE!)
18:00-19:00 Dinner with Japan. Incoming National presidents 2019 share their experience from the JCI Japan Academy.
19:00-20:00 IMPRO activity OR
19:00-23:00 Smalininkai city fest concert and fireworks.
23:30-... Night hike OR Dance flour till the morning.
SUNDAY:
8:00-9:00 Laughter Yoga
9:00-10:00 Breakfast
10:00-13:00 Go-karts OR Local sporting, touristic, leisure activities.
10:00-13:00 JCI Lithuania summer assembly session.
13:00-14:00 Lunch by extra ordering and fee.
... Packing, exchanging phone numbers and promises to get together again.
...Nice touristic route at the way back home (direction to Kaunas).
Basic package:
- 2 nights in a dorm-style room (additional nights: for JCI members - 4eur/night, guests - 5eur/night)
- meals
- sports venues (tennis, table tennis, basketball, volleyball courts, soccer field)
Basic package prices:
- JCI members - 40eur
- guests - 50eur.
- basic package with a stay in a guest house with a sauna - 75eur. Priority to JCI Senators and Families.
Additional activities for extra fee:
- canoeing 10eur/person (July 21 from 10:00 am (canoeing takes 6-7 hours))
- bike rental 5eur/person
- go-karts 12eur/person/10minutes
Please mark preferred activities when registering and pay via a bank transfer after registering.
Please register here:
https://goo.gl/B6cLkg
COME, bring your family and friends and ReFresh!