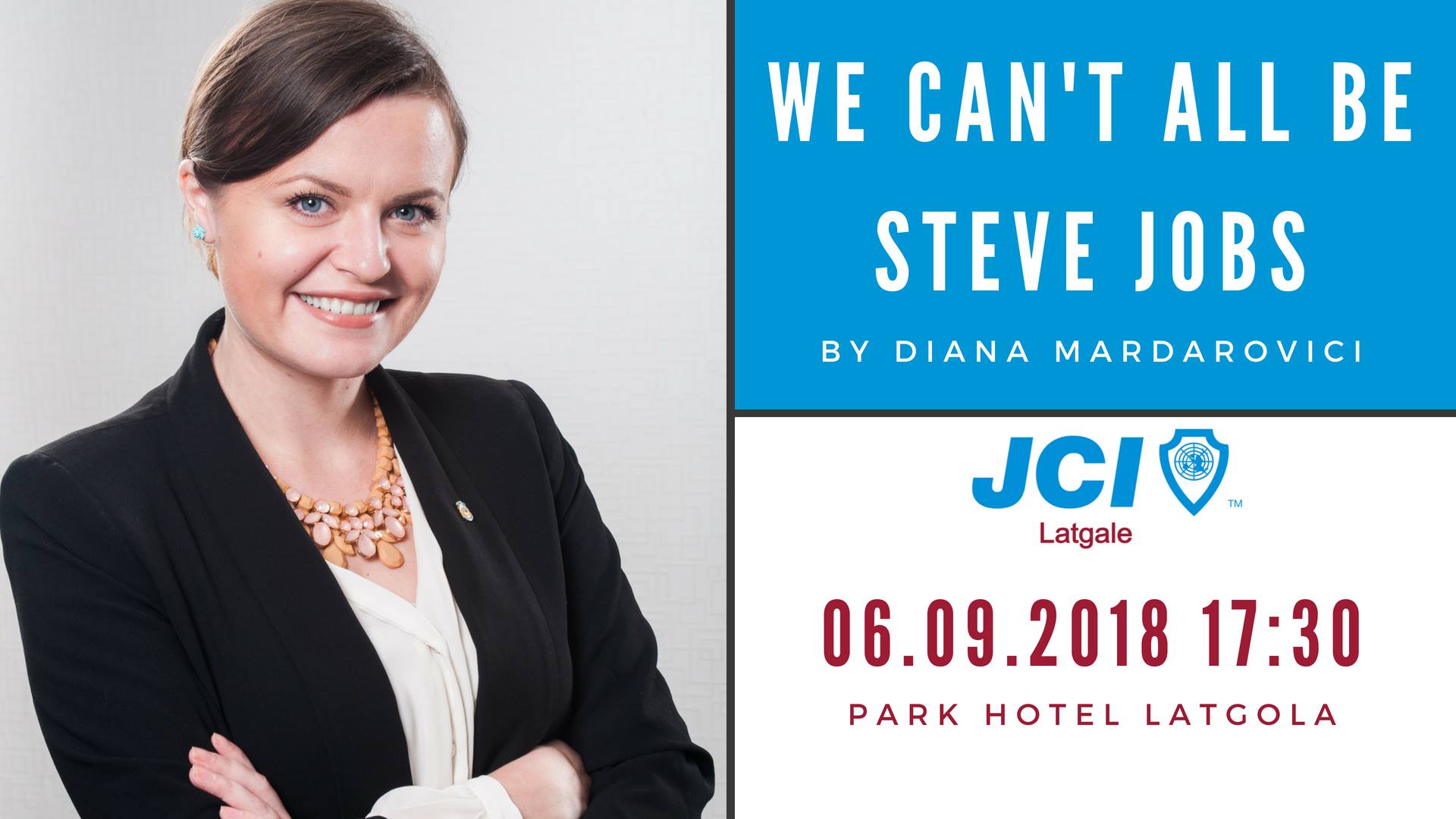 JCI Latgale aicina uz vieslekciju "Mēs visi nevaram būt Stīvs Džobss", ko vadīs
Diana Mardarovici
no JCI Rumānijas. Dianai ir 15 gadu pieredze mārketinga, tirdzniecības, mediju un projektu vadības sfērās, sākot no futbola maču organizēšanas līdz e-komercijai. Diana ir pragmatisks cilvēks, kas izlēma radīt un rādīt citiem iespējas - 2018.gadā viņa kļuva par JCI starptautisko viceprezidenti, atbildīgo par Eiropas reģionu.
Par ko būs stāsts? Pasaulē, kurā ir neskaitāmi brīnumaini uzņēmumi, triljons dolāru veiksmes stāsti, kouči un dzelzs vīri – kur tajā iederas vienkāršais cilvēks? Sarunu uzsāksim par mentoriem, modeļiem, uzņēmējdarbību un panākumiem. Veltīsim divas stundas, lai noteiktu kādi tad ir tie pagrieziena punkti mūsu dzīvē un mūsu mērķi!
Dalība ir bez maksas. Vieslekcija notiks angļu valodā. Tā tiks organizēta viesnīcas
Park Hotel Latgola
seminārtelpā.
Description: A level 2 disruptive mindset conversation! In a world of unicorn companies, trillion dollar success stories, life coaches and ironmen, where do the simple people fit in? Let's start a conversation about mentors, models, entrepreneurship and success. During these 2 hours we will take an inner journey to define our own milestones and life goals!
Diana has over 15 years of experience in marketing, sales, media and project management. From organizing football matches to e-commerce, the wide range of her experience offers an unique perspective on business and community projects. A pragmatist dedicated to creating opportunities - Diana is also a JCI Vice President assigned to Europe in 2018.
Participation is free of charge. It will be held in English. Venue: Park Hotel Latgola, seminar room.